NOMTOC to Roll February 14
There is only one parade that still rolls exclusively on the West Bank of New Orleans (Algiers), and that is NOMTOC (New Orleans Most Talked-Of Club).  The parade will begin at 10:45am the corer of Fiesta and Holiday in Walnut Bend,  Saturday, February 14. From there the parade will turn onto  Gen. Meyer Avenue/Newton Street to Teche and back around to Newton where it disbands at the NOMTOC headquarters.
The parade is presented by Jugs Social Club, which is a benevolent association founded in 1951, that has provided scholarships to youths and other benefits to the community.
This year's 45th anniversary parade will depict the theme "A Tribute to Algiers: Places Remembered", and Sherman L. Weary Sr. will reign as king with Kourtney Ann Williams as queen.  There will be 21 floats, including some mini-floats, double-deckers and super floats, 12 bands, eight horse groups and eight dance teams.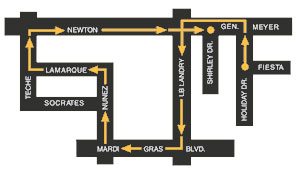 Information and pictures courtesy of
Algiers
 Main Street Corporation.
Old Algiers Main Street Corporation
,
founded in 1996, is a 501c3 non-profit organization dedicated to the revitalization of the historically commercial corridors of 
Old
Algiers
.